DESIGN YOUR MOST EXCLUSIVE SHOES
Paco Gil offers its most exclusive service for guests and unique women who want to wear the perfect shoes for their weddings and special events.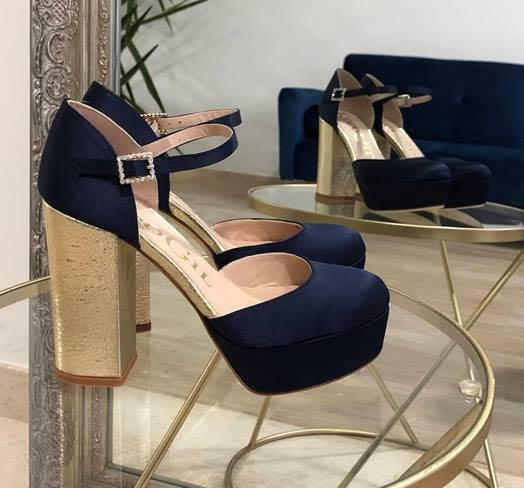 UN SINFÍN DE OPCIONES PARA CREAR LOS ZAPATOS DE TUS SUEÑOS
Crea tus propios zapatos junto a Carla Gil, la diseñadora de Paco Gil, y vive una experiencia maravillosa e inolvidable.
Carla te asesorará y te ayudará a elegir el diseño que mejor se adapta a tu estilo y a tus necesidades.
Juntas elegiréis la altura de tacón más cómoda para ti, los materiales más novedosos y exclusivos, los colores de vanguardia y si lo deseas puedes jugar con múltiples adornos, hebillas y plataformas.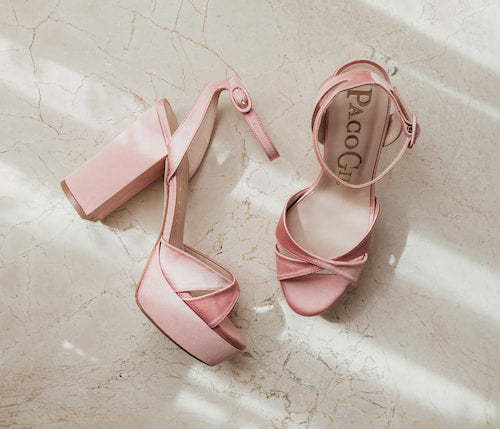 100% MADE IN SPAIN
Don't risk wearing uncomfortable shoes at an important event and opt for Paco Gil and his fashionable shoes created under an impeccable shape that guarantees a perfect fit so that you can enjoy each step comfortably and in total safety.
Fashion shoes for unique guests from ARTISAN CREATION in Elda with Chromium-free natural leathers that take care of the more delicate feet.
Feel its stable heels under your feet and move throughout the day light as a feather without worrying about a thing.
Make an appointment with designer Carla Gil and create with her the most comfortable, elegant and sophisticated shoes you can imagine.
Exclusive shoes 100% Made in Spain.
Live the wonderful experience of designing the shoes of your dreams to fit comfortably and elegantly at your most special events.
HOW TO BUY YOUR CUSTOM SHOES
You can also visit us at our private Atelier in Elda.
Always by appointment at the following address:
Calle Hernán Cortés, 20 – Office 16
03600 Elda – Alicante
CUSTOMIZE ONE OF THE MODELS IN THE COLLECTION

You can change the material, colors and heel height. In addition, you can also create new combinations

CREATE YOUR OWN SHOE FROM OUR LASTS

Live the wonderful experience of creating your exclusive shoes with the designer Carla Gil

DESIGN AND CUSTOMIZE YOUR PERSONALIZED SHOE

Create and customize your own Paco Gil shoes with your name or that special phrase for you
TESTIMONIALS FROM OUR GUESTS
CARLA C / GUEST

Carla always understands my needs and adapts to them perfectly. She creates some very cool and exclusive shoes that no one else has. You know that with Paco Gil you are always ideal and very comfortable.

VERENA / GUEST

I have several personalized shoes from Paco Gil and I recommend them 100%. The shoes are beautiful and very elegant, and they are also super comfortable and adapt wonderfully to my social and work lifestyle.

MARINA CV / INVITADA

It was a success to create my Paco Gil shoes for my friend's wedding. Carla adapted the design to my dress and the most important thing was being able to choose the height of the heel. It was just what I needed!! I was very comfortable throughout the day.
How can I start creating my exclusive shoes?

¿Tengo que pagar el envío de mis zapatos?

You don't have to pay any extra cost, as the delivery of your new shoes is completely free.

We will send them to your home in the agreed time and through MRW if you live in Spain or by UPS if you need to receive your Paco Gil shoes in another country

.

When will I receive my personalised Paco Gil shoes?

Once you confirm your new shoes and make the payment, we will put all the machinery in motion to create your shoes and you will receive them at home in approximately 6 weeks

.

Can I return my personalised shoes? Can I return my personalised shoes?

Customised shoes can only be returned if there is a quality problem. It is logical that we cannot accept returns for other reasons, because the shoes have been created exclusively with specific tastes and needs in mind.

What are the prices of my shoes?

Before we can give you an exact price for your new shoes, we need to know which model you want and all the details you want to customise.

How can I pay for them?

Once we have confirmed the price of your shoes, payment can be made via credit card, PayPal, bank transfer or Bizum.
GET IN TOUCH WITH US
Make an appointment online or in person, through the contact form or by WhatsApp at 647 433 949.
Visit our Private Atelier in Elda (always by appointment), and start designing your designer shoes.
Send us your questions and comments to zapatosexclusivos@pacogil.com
.
BET BY PACO GIL AND PRESUME OF UNIQUE, COMFORTABLE AND SOFISTIC DESIGNS

.