DESIGN THE SHOES OF YOUR DREAMS
Visit our Private Atelier in Elda or make an appointment online
Visit our Private Atelier in Elda or make an appointment online
.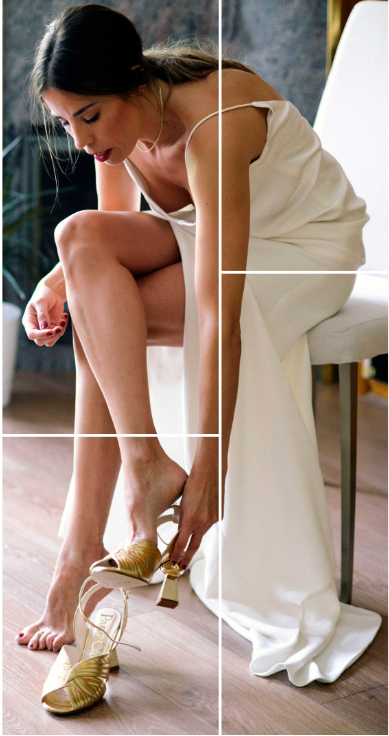 Customised shoes for unique brides.
DESIGN
ARTISAN
Paco Gil puts his private atelier at your disposal so that his creative director, Carla Gil, can create exclusively for youthe personalized shoes perfect for your weddingor special event.
Make an appointment and enjoy the unique design and exceptional quality that Paco Gil offers you.
Customized shoes created in Elda (Alicante) by the most expert hands in the sector and following an artisanal production process .
Always with soft, Chromium-free natural leathers that take care of the most delicate skin and respect the environment.
Visit us and discover the collection of bridal shoes that Paco Gil creates exclusively for you with stable heels and using the most elegant and comfortable lasts.
Let yourself be guided by Carla Gil and design with her the personalized shoes that best suit your style and needs.
Together you will create your shoes dreams that will combine perfectly with your most special look for your wedding, party or event.
At Paco Gil you will find the designs and styles you are looking for for that special day:
Personalized Sandals for Brides strong>
Customized Bridal Shoes
Customized Heeled Shoes for Brides
And we also have the perfect accessory for the bridesmaids and godmothers that will accompany you on that special day:
Shoes for bridesmaids
Party Collection
Shoes for bridesmaids
Live with Paco Gil and his creative director Carla Gil the unique experience of designing and manufacturing the shoes for your wedding or special event.

The wedding shoes will be created in exclusively for you  at your appointment with Carla Gil and once the design, lasts and patterns are approved.

This process takes us approximately 4-6 weeks from the confirmation of your shoes to their delivery.

Personalized shoes for brides made with soft natural leathers from Spanish tanneries and free of Chromium for take care of the most delicate feet.

Exclusive shoes 100% Made in Spain created for you.

A unique and exclusive way to show your personal style on the most important day of your life, in addition to being comfortable, confident and looking fantastic.

Bet on Paco Gil and Enjoy bridal shoes created under an impeccable shapethat will allow you to take each step comfortably and safely. Because that day nothing should worry you.

At Paco Gil you will find high, low or medium-heeled shoes, spectacular wedges or flat wedding shoes that will captivate you from the first moment.< /p>

Choose from a wide variety of designs, heel heights, lasts and constructions and create the most elegant and exclusive shoes you can dream of.

Free shipping. Request your appointment through the link or by phone 647 433 949
ELEGANT, UNIQUE AND FEMININE DESIGNS PERFECT TO ENJOY YOUR BIG DAY
SO COMFORTABLE AND VERSATILE THAT YOU WILL WANT TO WEAR THEM AGAIN EVEN AFTER THE WEDDING
WE ONLY ATTEND BY APPOINTMENT